A love for STEAM begins with Science! Let's explore and discover like a scientist. Our robust Science curriculum is full of team-building challenges, experiments, fun projects and technology activities. Choose your child's Science adventure!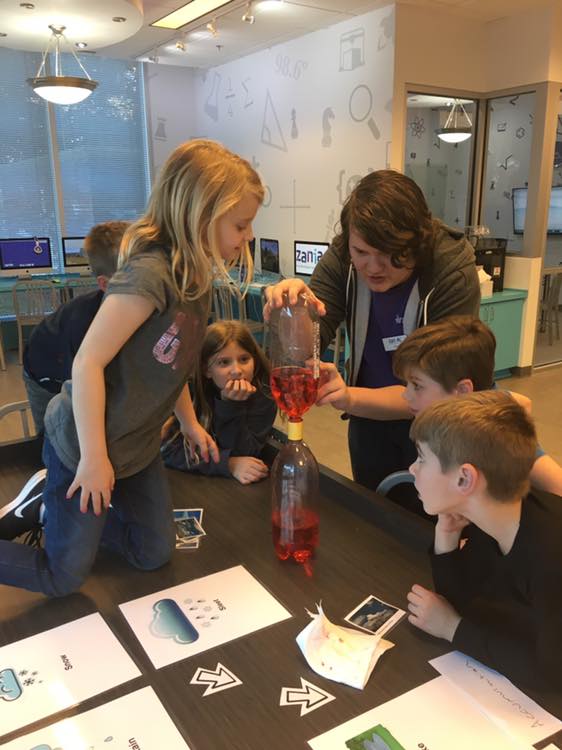 All Courses Feature:
Classes meet 90 minutes once a week for six weeks
Low ratio of 5 students or less per instructor
Develop critical-thinking and problem-solving skills
Personal progress emails from your instructor
Peer-based instruction and a fun atmosphere
Experiment and learn with friends
Course Descriptions:
Earth Science
Understand water cycles and the impact of the weather. Surviving the fury of mother nature can be a challenge. Learn what a meteorologist looks at to determine our weather. Explore our twisting, shaking, moving Earth as we understand the power tornadoes, hurricanes, earthquakes, tsunamis and volcanoes. Can you construct a home that will withstand the fury of mother nature? Let's look at the effects our actions have on our changing climate. For grades K–8 $299.

Physical Science
Get an early start learning the basics of physics and chemistry. Together we will look at the physics of gravity and motion, and understand why objects fall. Explore early concepts in chemistry, including atoms, reactions, acid and bases. With electricity and electrochemistry, let's create batteries from fruit and electroplating metal coins! For grades For grades K–8 $299.

Space Science
Do you have what it takes to be an astronaut? Join us as we explore space through the eyes of an astronaut. Let's learn more about the planets, moods, stars and space technology. Travel our solar system and participate in real astronaut-training activities, including living in space. Explore the technologies that space scientists and astronauts use, including lunar rovers and robotic arms. Using what you have learned in this class, will you be able to survive in space? For grades For grades K–8 $299.